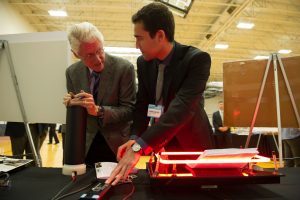 By Francesca Munsayac  
In October, the Blum Center will send 30 UC Berkeley students to the 2017 Clinton Global Initiative University, an annual meeting sponsored by the Clinton Foundation. Each year, CGI U unites over 1,000 students from around the world to implement innovative solutions for global challenges. Students apply to CGI U with a "Commitment to Action,"—a concrete project that addresses an issue relating to one of CGI U's five focus areas: education, environment & climate change, poverty alleviation, peace & human rights, and public health. An invitation to CGI U is a highly competitive process for students as their Commitment to Action (COA) must be new, specific and measurable.
CGI U provides support, mentorship, and resources to emerging student innovators, including opportunities for students to pitch their COA at the conference, win prize money, and learn from experts in the field of social entrepreneurship. Eleven of the 30 UC Berkeley students attending were also selected to present at the CGI U Exchange, an exhibition to explore partnerships and network with other participants. In addition, two students were selected for the "CGI U Commitment Challenge" – a crowdsourcing competition to raise money for their COA.
As a CGI U network partner, UC Berkeley has sent 350 UC Berkeley students to CGI U over the event's ten-year history, and students have gone on to raise thousands of dollars in investment to launch impactful social ventures. This year's CGI U attendees also include eight participants from Big Ideas@Berkeley; like CGI U, Big Ideas@Berkeley brings together students from multidisciplinary backgrounds who collaborate to develop innovative solutions to the world's most pressing social and development challenges.
According to CGI U organizers, UC Berkeley has maintained a reputation for consistently sending large cohorts of students who produce high-caliber projects every year. The following UC Berkeley teams are among those that will present at the CGI U in October. Check back on the Blum Center News' section for updates and to track their progress as the competition unfolds.
Social Innovator Spotlights
Aiding the Refugee Effort in Greece
Thanh Mai Bercher, UC Berkeley's 2017 Activist of the Year, and Holly Wertman, Chair of the City of Berkeley's Community Health Commission, joined forces to support The Melissa Network—a Blum Center partner organization that provides critical services to female refugees in Greece. Bercher and Wertman are supporting the Melissa Network to develop a long-term women's health program, which will be widely publicized through UN-based and local agencies, filling the information gap of where and how female refugees can seek health services.
Maximizing Social Relationships to Improve Women's Health
Osman Shokoor, former Vice President of UC Berkeley's Afghan Student Association, is building a comprehensive community-based program that connects Afghan refugee mothers, and uses modeling of positive peer behavior to demonstrate how to achieve positive health outcomes.
Shokoor will coordinate an interactive weekly women's exercise program that includes reflection sessions, and group seminars that provide a platform for Afghan women to discuss issues related to mental health, PTSD, intergenerational trauma, and common health concerns—such as Type 2 Diabetes and heart disease. To recruit participants and volunteers, Shokoor will partner with the Afghan Coalition, the oldest and most recognized Afghan community organization in the Bay Area.