Growing up in Ghana in the 1990s and 2010s, Abraham Martey and Vicentia Gyau understood that the weak educational system in their country was a byproduct of structural failures that were hardest on the poor. At UC Berkeley, where the two Mastercard Foundation Scholars majored in Global Studies and minored in Global Poverty & Practice, they steeped themselves in learning about global powers, structural injustices, poverty alleviation, and humanitarian aid.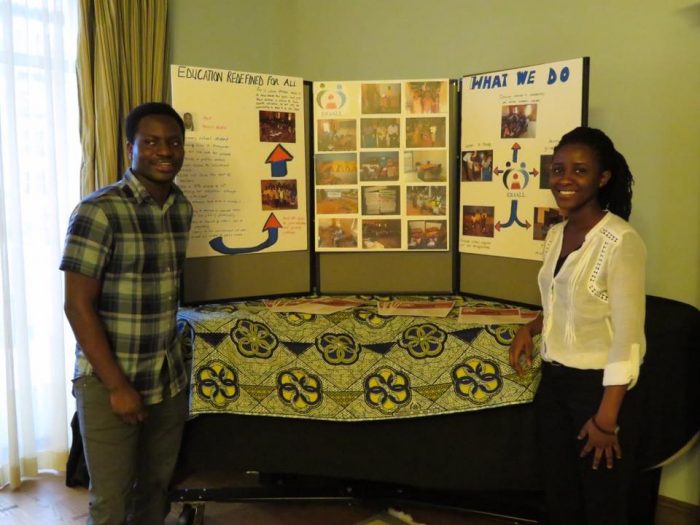 One fact the UC Berkeley students noted time and again was that for educational projects to have success, a synergy must exist between development organizations and the communities they seek to help. In May of 2016 while freshman at Berkeley, they set out to create such an organization—Education Redefined for All (ER4All)—as a way to help to improve public school education and give back to youth in Ghana. ER4All received its Certificate of Incorporation in Ghana in June of 2016, and its Certificate of Recognition as a Regional/District Non-Governmental Organization in Ghana November of 2017.

"The ultimate goal of ER4All," says Gyau, "is to change the face of education in Ghana from a chew and pour system—one that focuses on how well students are able to memorize and regurgitate information—to a critical pedagogy where students are actively engaged in education and where education is made practical, easy, affordable, and accessible to everyone."

Martey and Gyau say that the Global Poverty & Practice program helped them to gain a critical lens through which to think about how to proactively approach solutions that center on people while acknowledging structural failures. For that reason, ER4ALL works to find effective solutions not just to educational access but to unemployment in Africa by addressing what Gyau refers to as "the root of the problem, not just the leaves."

ER4All provides its beneficiaries—financially disadvantaged students aged 6-19 and their parents—with school supplies, tutoring in entrepreneurship, leadership, and computer literacy, as well as career coaching to help high school dropouts (one of whom went on to become a Community Police Driver) learn a trade of their choice, such as sewing and driving.

Because access to secondary school education in Ghana is very new—indeed tuition-free high school is only one year old—Martey and Gyau say most parents from disadvantaged backgrounds don't have the experience necessary to guide their children through school or help plan for their livelihoods afterward. For that reason, ER4ALL has developed an Empowerment Fund that provides parents with capital to start or invest in existing businesses, offers lessons in entrepreneurship, and engages parents in discussions on how they can be actively engaged in the education of their children. The Empowerment Fund is meant to help parents both attain a higher level of financial security and participate in the education of their children.

Currently, ER4All serves 18 students, 18 parents, and two high school dropouts in Prampram and neighboring towns in Ghana. Martey and Gyau say that the Global Poverty & Practice minor introduced them to the idea that approaches to aid should be analyzed and reassessed to best suit beneficiaries' needs. As such, they want to apply new methodologies in response to what does and doesn't work. Says Martey: "We make sure we have the best interest of our beneficiaries in mind, and not impose on them what we think will help—but doing what works best for them."

Since graduating from Berkeley, Gyau has been selected to be a Student Support Fellow at the African Leadership Academy, a South Africa-based organization whose mission is to develop a network of over 6,000 leaders to collectively address the continent's greatest challenges. Meanwhile, Martey is enrolled in McGill University for a Master of Education and Society. He says, "At McGill, I am taking courses related to and or in curriculum development to help further develop the Leadership and Entrepreneurship Curriculum we are currently using." His main focus is on first generation college students, learnings from which he plans to apply to ER4All.

While in Canada and South Africa, Martey and Gyau are maintaining their roles at ER4All and are in constant touch with the teachers and administrators on staff in Ghana. Martey is focused on funding opportunities, budgets, and the further development of the Leadership and Entrepreneurship syllabus. Gyau oversees the staff, helps recruit new students, and further develops guidance, counseling, and study skills to better serve ER4All's beneficiaries.

Gyau says the long-term vision of ER4All is to catalyze a shift from standardized education in Africa to a focus on the economic and social well being of students and their communities. "Overall, the idea of ER4All is to create an ecosystem in which youth in Ghana are able to start their own trades, create jobs for themselves, and enter the workforce with applicable knowledge and skills," says Martey.

—Dalia Elkhalifa