By Andrea Guzman and Rachel Voss
Kati Hinman, a recent graduate of the Blum Center for Developing Economies' Global Poverty and Practice (GPP) Minor, is a 2014 recipient of the John Gardner Fellowship – a stipend given to graduating seniors pursuing careers in public service.
Hinman, who grew up in a small town in Connecticut where public service was the norm, spent her time at UC Berkeley exploring how to better understand and address the needs of underserved communities.
"I was raised with the mentality that being part of a community is donating your time. Both my parents volunteer regularly and love being active in our town," explained Hinman. "However, I also come from a fairly isolated community with access to resources and power. At Berkeley, I have been able to explore the powers and privileges that are at play when one volunteers and how to use my time to better act for social justice."
Hinman, who initially planned a career in medicine, spent her early undergraduate years shadowing and interning in healthcare facilities. She said what struck her most was the immensity of the social and environmental constraints to public health. The field's purview, she found, goes well beyond treatment.
Hinman's growing interest in the inequalities that contribute to structural and physical violence against people—as well as her passion for exploring different cultures and the often untold histories of those who are marginalized— led her to change her major to Peace and Conflict Studies and declare the GPP Minor. She said GPP faculty and Blum Center staff helped her explore the contradictions in development work, particularly the history and current approaches to humanitarian aid and intervention. For her GPP practice experience, she traveled to Cochabamba, Bolivia, where she worked with the Instituto Para el Desarollo Humano, an HIV/AIDS prevention program. Hinman said she found the experience unexpectedly challenging, and was frustrated by her inability to make a substantive difference.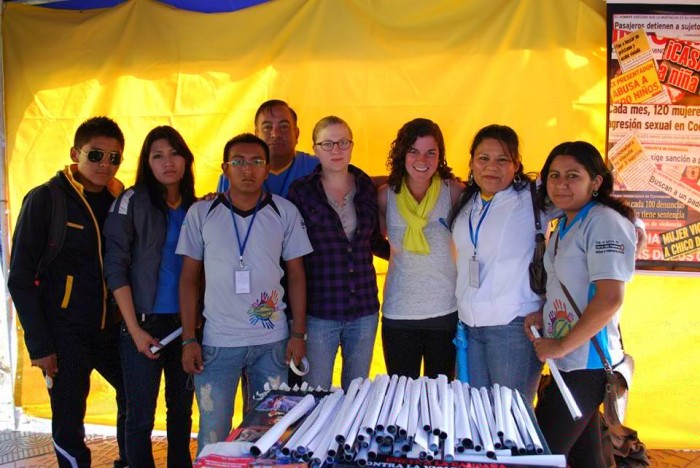 "Upon returning, I questioned what my role was in the world of international development," said Hinman. "My GPP 196 critical reflection course was instrumental in helping me work through some frustrations. I found that I am really inspired by organizations that are driven by local people and the issues that affect them directly, but I am still trying to figure out what my place can be in those spaces."
At Cal, Hinman kept herself busy outside the classroom. She served as the community partnerships director and a trip leader for Alternative Breaks, director of public internships at Berkeley's Public Service Center, and as a corps member in AmeriCorps' Jumpstart literacy program. She also became involved with the women's clinic of the Suitcase Clinic, a student organization dedicated to providing underserved and homeless people with free healthcare and social services. She worked to improve services for children in the women's shelter, and went on to serve as a community resource advocate.
Hinman's interests in public service have been wide ranging. The summer before her junior year, she began working with UC Berkeley alumna and anti-trafficking champion Minh Dang. Through their research, Hinman explored human trafficking and modern day slavery in the U.S. and joined the student abolitionist movement on campus. She later co-founded the Berkeley Anti-Trafficking Coalition, an IdeaLab supported by the Blum Center and Big Ideas that encourages interdisciplinary collaboration around the issue. Hinman worked with two peers from the IdeaLab to develop the East Bay Youth Trafficking project, which won an honorable mention in the 2013-14 Big Ideas@Berkeley contest.
More and more, Hinman's perspective on social change has shifted in favor of bottom-up development. The Gardner Fellowship will allow her to explore challenges faced by communities in the Bay Area as well as sustainable solutions that come directly from the people affected. Hinman is considering working with a mental health and trauma recovery program for homeless youth, focusing on participants' influence in shaping those programs.
Eventually, Hinman plans to pursue dual Master's degrees in public health and social work to prepare her for a career in mental health programs for underserved youth. She hopes to build programs that combine recovery and therapy, creating opportunities for children to develop as leaders and agents of change. Meanwhile, her legacy will live on at Cal through the IdeaLab, her work with the Public Service Center, the Suitcase Clinic, and the many other programs she has touched.