By Sybil Lewis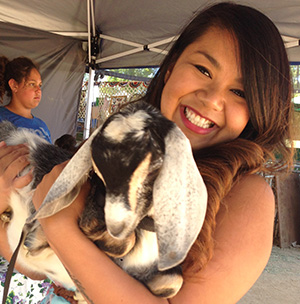 Many students graduate from Cal intent on making an impact in the world. The reality of direct service work, however, can cause even the most committed to feel discouraged and to question what meaningful and financially sustainable work looks like—challenges that Jessica Praphath, a Cal alumna, faced while working on poverty alleviation in her hometown of Stockton, California.
Stockton was hit hard by the 2007 financial crisis. In 2008, foreclosures soared to 9.5 percent and housing prices fell by 39 percent. In July 2012, it became the largest American city to file for bankruptcy protection.
Praphath, whose parents immigrated from Thailand, grew up in "pockets of poverty" in the predominantly Southeast Asian communities around Stockton, and returned there a week after graduating from UC Berkeley in 2013, determined to work on public health and community issues at the grassroots level. She could have stayed in the more affluent cities of the Bay Area, but after minoring in Global Poverty & Practice (GPP), she said she decided her vocation was to better "understand the systemization of poverty and how I and my community fit into that system."
Praphath's first job out of Cal was at a resource center of the Community Partnership for Families of San Joaquin, where she completed her GPP practice experience. There, she was in charge of establishing a virtual education program for students in low-performing schools in south Stockton. But when you "work in a nonprofit in Stockton you wear 25 different hats," she said. She soon became involved with the nonprofit's umbrella program, Neighborhood University, providing online parenting and English as a Second Language (ESL) classes.
Praphath worked countless hours to provide ESL, one of the community's highest demands. Although the first few weeks of classes started off with about 40 people, over time the numbers slowly faded. Eventually, the classes were cancelled due to low attendance. Praphath said she was disappointed to "work so hard and then watch the project fail."
The failure felt personal. Yet she also knew that the class's low attendance might have something to do with the culture of welfare in south Stockton. Many people were distrustful of organized social assistance, in part because Stockton's district lines had been redrawn so that most of the post-crash development money went to renovating downtown rather than to helping low-income south Stockton. Residents became accustomed to social workers using data about their lives to collect grant money that eventually went elsewhere.
Praphath said she discovered that one of biggest problems in development work is to empower a community that has been exploited or ignored. Another challenge is the lack of funding for community members and those who want to work with them. Praphath's $13 hourly wage did not cover her monthly bills, which include payments on almost $20,000 in student loans. The Community Partnership for Families of San Joaquin also wasn't able to provide her health benefits or employ her full-time, even though she was putting in 40 to 50 hours per week.
After months of exhausting work and financial difficulties, Praphath reluctantly left the family center for a job at the Health Education Department of Community Medical Centers, a federally qualified health center in Stockton. Yet two months into the job, she said she felt something was missing—the one-on-one interactions with people, the community aspect.
To fill this gap, she volunteered for the Reinvent Stockton Coalition, a community-based initiative spearheaded by Stockton City Councilman Michael Tubbs. Praphath said the coalition has made her rethink what works in community development.  "I graduated from Cal thinking that meaningful work was measured by how many people you can get in a program," she said. "But in the field, it's not about that. Being effective is not about 40 people attending your ESL class or health workshop. It's about whether you can change people's lives."
Looking back, Praphath said she thinks attendance of the family center's ESL classes dropped partly because beneficiaries were not involved in shaping the classes. She is a believer in the participatory development of social programs. Yet she realizes this is easier said than done, especially when there is a "disconnect between professional and college-educated people and community members."
At Community Medical Centers job, she sits on a bimonthly public health task force that brings together representatives from nonprofits, foundations, and government organizations to discuss plans for public health initiatives. Praphath believes in the mission of the taskforce and sees a strong desire to enforce change, but she notes that a fundamental piece is missing: a community representative. The same was true for the initial planning meetings of Reinvent Stockton. When she looked around the table during those first meetings, all she saw were dedicated people who went to good universities and, like her, returned to Stockton to help improve it.
Praphath has since played a vital part in the Reinvent Stockton coalition's expansion to south Stockton community members. They helped write two assessment surveys, which mapped Stockton's "community strength index," focusing on issues such as education, public safety, housing, economic development, and health. And in July 2014, the coalition launched its first community assessment survey, from which community members and volunteers collected more than 800 surveys.
Praphath, who is collecting follow-up surveys, recalled an emotional phone conversation with a south Stockton resident named Regina about crime and policing. Regina told Praphath that her son had recently been shot and that distrust of the police was high. "I talked to Regina for 56 minutes and 8 seconds," she said. "I know the exact time because I remember getting off the phone and feeling like it was one of those experiences where you feel so connected to another human being and it helps you understand your purpose and why you are doing what you are doing. All the stress goes away and it all makes sense."
Praphath said when she first returned to Stockton with her UC Berkeley degree, some people expected her to have all the answers. She made it clear that she was there to learn. "When I meet community members, I let them do a lot of the talking," she said. "This way, I am seen not as someone who is trying to push knowledge or test out my education, but as someone with a genuine interest in what they have to say."
A year later, she has come to believe that community members are the ones with the answers. They are the experts—the "think tanks" as she puts it.