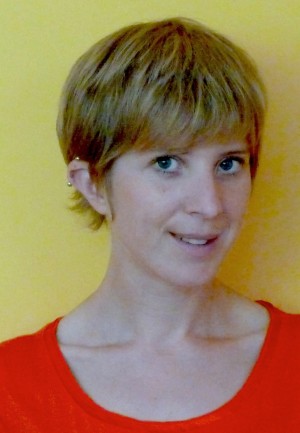 August 21, 2013 – Dr. Lina Nilsson, Innovation Director of the Blum Center for Developing Economies, has been named one of this year's Innovators Under 35 by the MIT Technology Review. For more than a decade, the global media company has recognized a list of exceptionally talented technologists whose work has great potential to transform the world.
"We're proud of our selections and the variety of achievements they celebrate, and we're proud to add Lina to this prestigious list," says MIT Technology Review's editor in chief and publisher Jason Pontin. "Over the years, we've had success in choosing women and men whose innovations and companies have been profoundly influential on the direction of human affairs. Previous winners include Larry Page and Sergey Brin, the cofounders of Google; Mark Zuckerberg, the cofounder of Facebook; Jonathan Ive, the chief designer of Apple; and David Karp, the creator of Tumblr."
Dr. Nilsson is being recognized for her work at the Blum Center as well as Tekla Labs, which works to enable scientists in the developing world to construct their own high- quality lab equipment using readily available, off-the-shelf items. Her selection highlights UC Berkeley's strength in cultivating not only researchers and entrepreneurs, but also ambitious social innovators working across disciplines to meet global challenges head-on. One of 10 women on this year's list, Dr. Nilsson also illustrates the growing influence of women in the fields of technology and innovation.
"Lina is an extraordinarily talented researcher. Her work combines the best of innovative technology and a commitment to the alleviation of poverty in a new construct of development engineering. She is a ground-breaking thinker who truly embodies the Blum Center's spirit of innovation and social engagement," said Shankar Sastry, Dean of the College of Engineering and Faculty Director of the Blum Center. "We are delighted that she has been recognized for her pioneering achievements."
A biomedical engineer by training, Dr. Nilsson believes that global challenges in health, environment, and development require grassroots contributions from the entire global scientific community. While completing her MSc at the University of Washington, Dr. Nilsson received a Bonderman Fellowship to travel throughout resource-scarce areas in Asia and South America. She visited labs and met with scientists whose research was significantly hindered by a lack of standard lab equipment. Subsequently, she founded Tekla Labs as a platform for "thinking creatively about ways to sustainably improve access to equipment and other physical infrastructure" so that "more researchers around the globe will have access to the tools they need to act on their insights and transformative ideas."
Dr. Nilsson and this year's other honorees are featured online at TechnologyReview.com and in the September/October print magazine, which hits newsstands worldwide on September 3. They will appear in person at the upcoming EmTech MIT conference from October 9–11 in Cambridge, MA.
About the Blum Center for Developing Economies
Established in 2006, the Blum Center for Developing Economies educates the next generation of global citizens to be agents of change in the struggle against global poverty. Its mission is to improve the well-being of three billion people in the world who live on less than two dollars a day by designing and developing sustainable solutions to tackle the toughest poverty challenges. The Center brings a rigorous multi-disciplinary approach and real-world applications to the classroom, lab and into the field. With its combination of unrivaled disciplinary depth and breadth, cutting-edge thinking, and the University of California's unique culture of global engagement, the Center translates and applies innovative research to solving the world's most pressing problems.
About MIT Technology Review
MIT Technology Review leads the global conversation about technologies that matter. An independent media company owned by MIT, it produces publications read by millions of business leaders, innovators, and thought leaders around the globe, in six languages and on a variety of platforms. The company publishes MIT Technology Review magazine, the most respected technology magazine; daily news features, analysis, and opinion; and Business Reports, which explain how technologies are transforming industries. It produces live events such as the annual EmTech MIT, international EmTech conferences, Summits, and Salons. The company's entrepreneurial community organization, MIT Enterprise Forum, hosts 400+ events a year around the world.
# # #
For MIT Technology Review:
David W.M. Sweeney
617-475-8018
press[at]technologyreview[dot]com
For Blum Center:
Fred Muir
310-278-9321 Office
310-600-8954 Cell
fred[at]fredmuir[dot]com
Christie Ly
917-617-2437
christiely3[at]gmail[dot]com