By Carlo David
Prompted by funding and recognition from the Big Ideas@Berkeley contest, a group of Cal students headed by Mechanical Engineering graduate student Julia Kramer is seeking to establish a sustainable training program called "Visualize" for midwives in Ghana. In a country where only five percent of women have been screened for cervical cancer, Visualize aims to create a system in which midwives receive the essential skills and tools to perform a visual inspection of the cervix with acetic acid (vinegar). The inspection method, known as VIA, is a low-cost and effective way to screen for cervical cancer, but it is not widely used in Ghana and other countries due to a lack of training and awareness.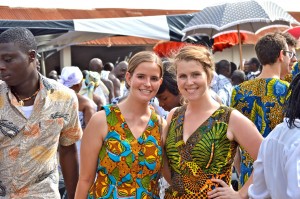 Kramer and Maria Young first conceived of the project as undergraduates at the University of Michigan. "We were part of a group of five engineering students who spent eight weeks in Ghana for a cultural immersion and design ethnography experience," said Kramer.
At Michigan, she and her collaborators developed the first few prototypes of a VIA training simulator, based on design requirements they developed at two major teaching hospitals in Ghana. At Berkeley, Kramer teamed up with fellow Mechanical Engineering and Haas School of Business students Abhimanyu Ray, Karan Patel, and Betsy McCormick, to develop the midwife VIA training concept. Visualize's faculty advisors include public health professional Kyle Fliflet and Mechanical Engineering Professor Alice Agogino, who is chair of the Development Engineering graduate group.
Kramer explains that her project was motivated largely by interactions with midwives, nurses, and doctors in Ghana, along with substantial data supporting the need for more cervical cancer screening. Annually and worldwide, 275,000 women die from cervical cancer. Eighty percent of deaths occur in developing countries, which often do not have the medical infrastructure to diagnose and treat cervical cancer. VIA has been proven to serve as a low-cost alternative to methods like the Pap smear. A 2008 International Journal of Gynecology & Obstetrics study found that VIA could reduce mortality rates by 68 percent. Through midwife-administered VIA tests and subsequent treatments, the Visualize team estimates it can avert 150,000 deaths per year.
Based on their experiences in Ghana, Kramer and her colleagues believe midwives, rather than doctors or other medical professionals, are the best means to implement their public health solution. "Midwives have and can be trained for this procedure," said Agogino. "As a matter of fact, because such an intimate procedure requires interpersonal communication skills, midwives are better suited than licensed medical doctors."
The VIA method is not only cheaper than a Pap smear—if properly performed, it also can be equally effective. The method works as follows: a midwife performs a preliminary pelvic examination; she inspects any pre-existing abnormalities; she applies a small amount of table vinegar in the cervix; if acetowhite lesions appear, cancerous cells may be at work.
If there are signs of pre-cancerous cells, the midwife may perform cryotherapy, a procedure that freezes off cervical abnormalities and eradicates cancer cells. In a 15-year controlled trial of 151,000 women ages 35-64 in Mumbai, India, the mortality rate in the cryotherapy treatment group was reduced by 31 percent.
There are, however, unique challenges and financial hurdles to implementing Visualize. According to Agogino, "One of the biggest challenges is identifying infrastructures that already exist for training midwives, so the midwives can eventually train other women in Ghana." Indeed, the Visualize team is exploring whether it is viable to incentivize women to recruit and train other women, particularly to reach remote areas.
Communication may also be a challenge for Kramer and her team. "There's an ever-present challenge of working in a culture I'm not part of," explained Kramer. "It's hard to travel back and forth to Ghana and it's difficult to bridge the communication gap using email or Skype."
Kramer and her colleagues also must walk a fine line between American and Ghanaian public health and other cultures. "Since one of the main goals of this project is empowerment, we want to remain very careful about overstepping our bounds and ensuring mutual respect," explained Kramer.
The Visualize team plans to use various media—television, radio, billboards—to market the availability of midwives for cervical cancer screenings. In addition, the team is collaborating with the Ghana Ministry of Health and Ghana Health Services to vet and publicize its efforts. So far, response from Ghanaian government agencies has been positive. Visualize has found several partners, including the Kumasi Nurses and Midwifery and Training College and the Ministry of Health. Its next step is to identify the location of its first training program.
Ultimately, Kramer said her project is about respectfully furthering social change. "Young people can and should take a more active role in addressing conditions of global poverty," she said. "But we have to be humble and realistic about our role in societal progress. We have to respect cultural traditions and boundaries and be aware that our presence carries connotations beyond our control."
The project will be running a fundraising campaign from September 14 until October 14. For more information, go here: crowdfund.berkeley.edu/visualize.